Online questionnaire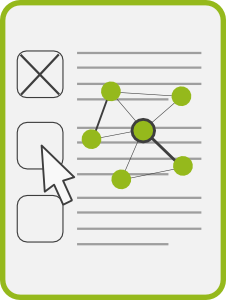 Online questionnaire for the survey of social networks.
We offer the following features:
collecting ego networks
different types of name generators
different types of name interpreters
unlimited or limited number of alteri
collecting alter-alter and ego-alter relations
collecting complete networks
whole network analysis
invite interview participants via email
remember interview participants via email to participate
filter questions
geo information (e.g. Which country is the interview participants?)
measurement of time (e.g. How long does a survey take?)
individual layout design of your questionnaire
we are happy to create more features for your individual needs.
Application examples
Business Consulting / Coaching

work for coaching measures: Co-operation and conflict networks survey
Conflict Management

Corporate network

strategic networking
analyze social capital
identify and contact central actors
visualize the current and target state of the company network

Cluster management

visualize networking of members
collection and visualisation of cooperation structures between members
recognise central and isolated members
collection of internal and external networking

Cultural management
Research
More examples
We unburden you in the preparation and implementation of an online survey for social network analysis.
Send us your draft questionnaire as a word or pdf file.
We will create and host the online questionnaire for you.
During the survey, you always have access to the survey data.
At the end of the survey phase we will send you the results.
Your data will be treated confidentially.
If you want to collect specific categories of personal data (e.g. health data), please, contact us for a data processing agreement.
Product and price information


Contact us: contact form
Our demo survey for ego networks: Demo survey
Online networkquestionnaire - Product and Price
"All I can say is 'thank you'. Your help has been invaluable to my project.It truly was a great learning experience and I look forward to working with you again."
Rajalakshmi Kanagavel
DFG Research Training Group 1474 'Transnational Social Support' University of Hildesheim